Study results
Authors: L.V. Brylev, A.I. Ataulina, V.V. Fominykh, V.V. Parshikov, A.K. Vorobyeva, E.V. Istomina, R.K. Shikhkerimov, A.V. Salikov, M.N. Zakharova, A.B. Geht, E. Begi
Study results published in the Amyotrophic Lateral Sclerosis and Frontotemporal Degeneration journal in 2020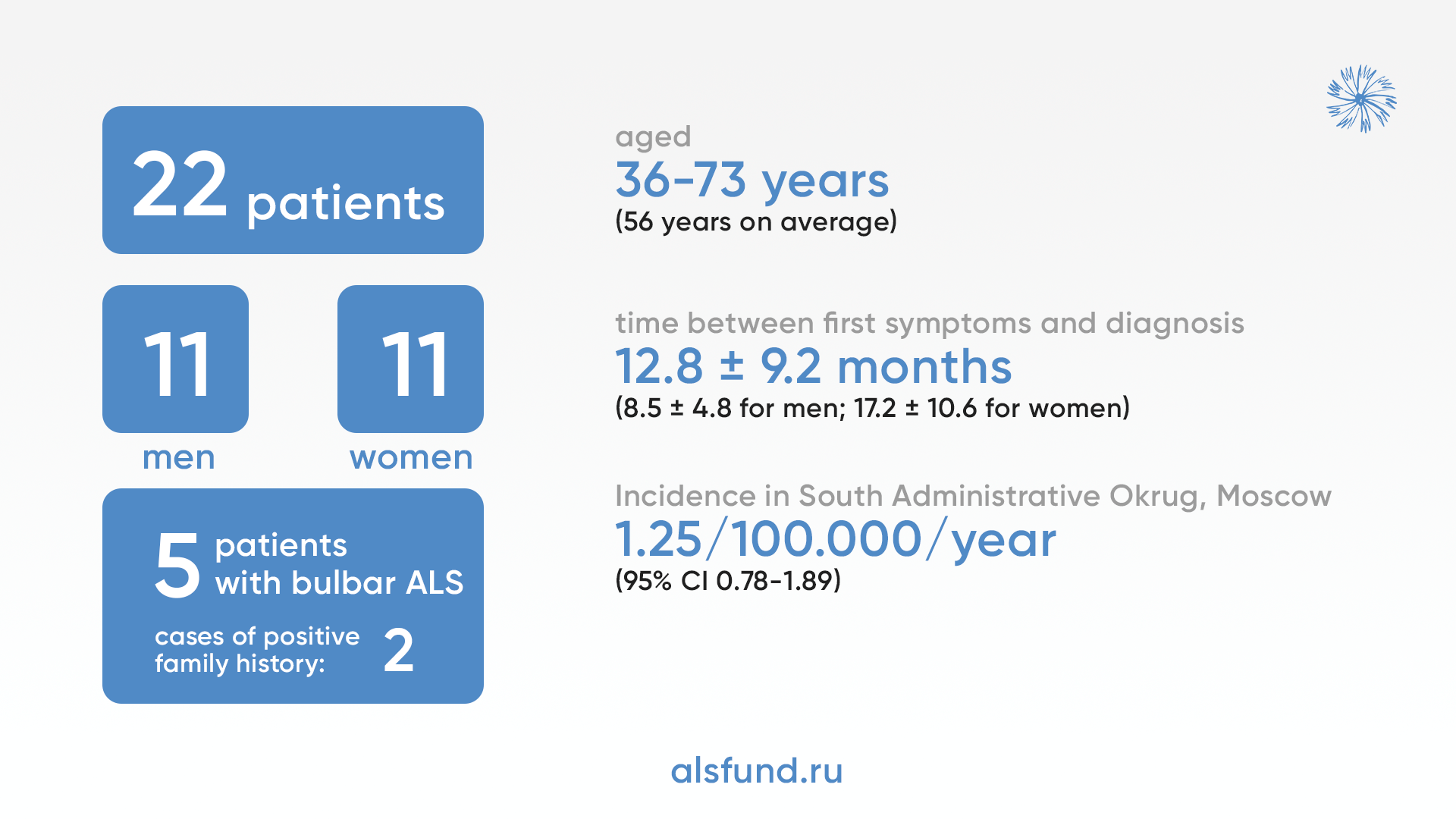 Objectives:
Estimate the incidence of amyotrophic lateral sclerosis in Moscow and compare this index with previous Russian data and foreign studies.
Methodology:
A retrospective study of the incidence of ALS was conducted in the Southern District (SAO) of Moscow with a population of 1,760,000 as of 2015. We studied data from medical records of patients diagnosed with ALS in clinical hospitals and inpatient clinics in the Southern District of Moscow in 2015.
Results: 
We analyzed data of 22 patients with ALS: 11 men and 11 women aged 36-73 (56 years on average). 5 patients had a bulbar form of ALS.
Family history was positive in 2 cases
The duration between first symptoms and diagnosis was 12.8 ± 9.2 months (8.5 ± 4.8 for men; 17.2 ± 10.6 for women).
The annual incidence of ALS in the Southern District was 1.25 per 100,000 people (95% CI 0.78-1.89).
For comparison, incidence rates in previous Russian studies ranged from 0.3 to 0.7 new cases per year per 100.000 people.
The standardized incidence rate in Russia was taken as 1.22 per 100.000 people, and in Europe as 1.28 per 100.000 people according to previous studies.
Conclusion:
The incidence of ALS in Russia is higher than reported in previous studies, but lower compared to data from foreign studies. Possible causes are problems with timely diagnosis, as well as low life expectancy in Russia